Ham and beetroot salad is a colourful and delicious dish that is perfect for any occasion. Whether you are looking for a light lunch or a side dish to serve at your next dinner party, this Ham and beetroot salad will definitely impress your friends and family.
The combination of sweet beets and salty ham is a match made in heaven. The beets provide a unique flavour and a stunning deep purple colour to the dish, while the ham adds a savoury and smoky taste.
This salad is not only delicious but also packed with lots of nutrients. Beets are a great source of fibber, vitamin C, and potassium, while ham provides protein and iron. Together, they make a well-balanced meal.
Next time you are looking for a colourful and delicious salad, try this ham and beetroot salad. Here is the step by step guid for
How to Make Ham and Beetroot Salad.
Step 1: Get the green peas ready. You can use fresh peas or frozen green peas, If using frozen green peas, add some hot water and set aside about 2 minutes.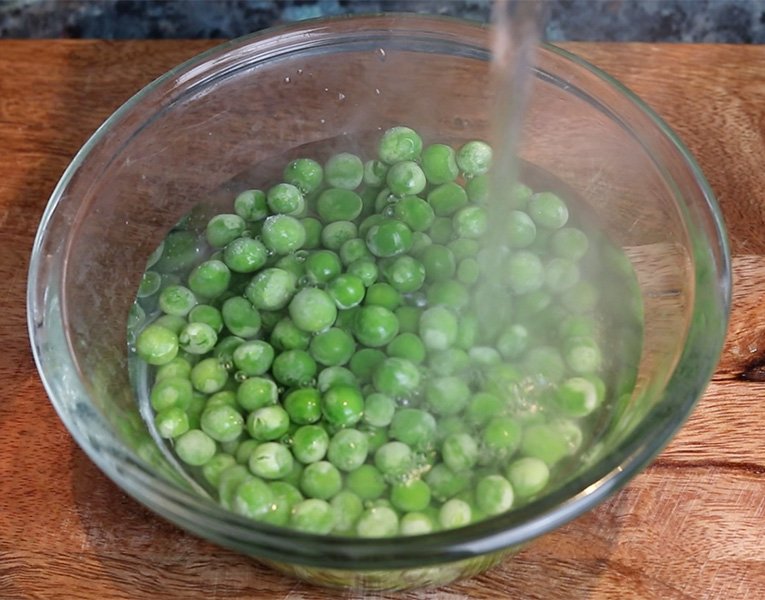 Step 2: Use cooked beetroot for this recipe. Cut them into 1/2 inch cubes and put it on a bowl. Cut and add spring onions, lettuce ( I used Romains lettuce, you can use any lettuce like as ice burg ), ham ( If you don't eat pork, you can use chicken ham) and green peas.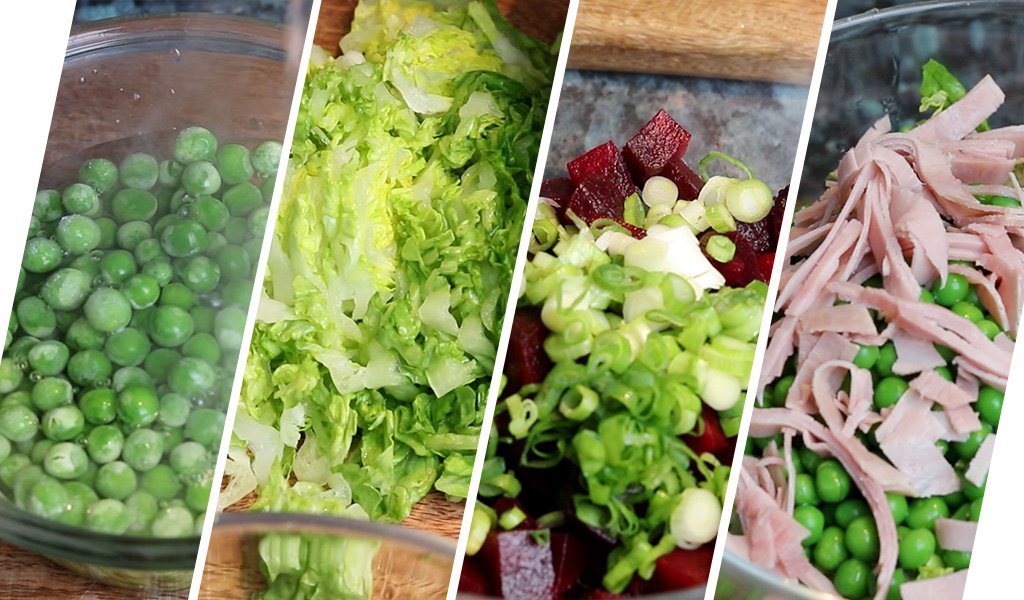 Step 3: Making the dressing: Add Greek yogurt , horseradish, black pepper and salt in to a bowl and mix them well. Add 1 or 2 tablespoon of hot water to make the dressing pourable.
Step 4: Finally add the dressing to the salad bowl and mix all together and your ham and beetroot salad is ready. Enjoy
Ham and Beetroot Salad Recipe
Ham and Beetroot Salad
Looking for a refreshing and nutritious meal? Look no further than our Ham and Beetroot Salad recipe! Packed with protein from diced ham and fiber from chopped beetroots, this salad is not only delicious but also incredibly healthy.
Ingredients
100

g

Green Peas

Frozen

150

g

Beetroot

Cooked

2

stem

Spring Onion

1

bunch

Romains Lettuce

Shredded

2

tbsp

Greek Yogurt

2

tsp

Horseradish

Sauce

100

g

Ham

Wafer-thin

Salt

to taste

Pepper

to taste
Instructions
Pour boiling water over the green peas and set aside for 2 minutes.

Cut the beetroot into cubes and add the peas, spring onions and lettuce in to a bowl.
Making the Sauce (Dressing)!
Add Greek yogurt, horseradish sauce, pepper and salt with 1 to 2 tablespoon of hot water and mix well.

Finally pour the dressing sauce into the beetroot bowl and mix well.

DID YOU MAKE THIS BROCCOLI STIR FRY RECIPE?
Please let me know how it turned out! by leaving a review below. Or snap a photo and share it on Instagram [ be sure to tag me @niyoskitchen & hashtag it #niyoskitchen ]
I am so excited to hearing from you.
You can make so many different version of this salad by replacing ingredients. Instead of ham you can use some smoke fish. Check out my Russian Salad Recipe to get an idea of what other ingredient that you can use for the salad.
Here I have a listed some of the questions that mostly ask on internet.
What meat goes best with beetroot?
Beef: Beef and beetroot are always goes well. Combination of the sweetness of the beetroot and richness of the beef make a unique flavour. May be not in a salad but as a side dish or cook together into a beef stew.
Lamb: Lamb and beetroot are another great combination. The sweetness of the beetroot helps balance out the strong and wildness flavour on the meat.
Chicken: While not as traditional a pairing as beef or lamb, chicken can also work well with beetroot. Try grilling chicken breasts or thighs and serving them with roasted beetroot or a beetroot salad.
Do you eat beets raw in salad?
Yes, You can eat raw beetroot. It is a very common ingredient in many salad recipes. Raw beetroot add a sweet flavour to salad and it is also a good source of nutrients such as fiber and vitamin C.
What is the healthiest way to eat beetroot?
The healthiest way to eat beetroot is raw or lightly cooked. This is because cooking can reduce the nutritional value of the vegetable. Here are some tips for preparing and consuming beetroot in a healthy way:
Raw: Eating raw beetroot is the best way to maximize its nutritional content. You can shred it and add it to salads, or slice it and eat it as a snack.
Lightly steamed or roasted: If you prefer cooked beetroot, lightly steaming or roasting it is a good option. This will help to preserve its nutritional content while making it easier to digest.
Don't overcook: Avoid overcooking beetroot, as this can reduce its nutritional value. Boiling beetroot for too long can also cause it to lose its color and flavor.
Eat the leaves: Beetroot leaves are also nutritious and can be eaten raw or cooked. They are a good source of vitamins A and C, as well as iron.
Combine with other healthy foods: Beetroot can be combined with other healthy foods to create a nutritious and balanced meal. For example, you can add beetroot to a salad like our Ham and Beetroot Salad.
Remember that moderation is key when it comes to consuming any food, including beetroot. While it is packed with nutrients, consuming too much of it can lead to gastrointestinal discomfort.
If you like to find out Health Benefits of Beetroot, use this link and read the article on BBC Goodfood website.