I made this simple Sausage and rice recipe short of a fried rice style. This classic combination brings together the savory goodness of sausages, bacon and ham with the comforting texture of rice. It's a versatile recipe that can be prepared in countless delicious ways.
Combination of Meats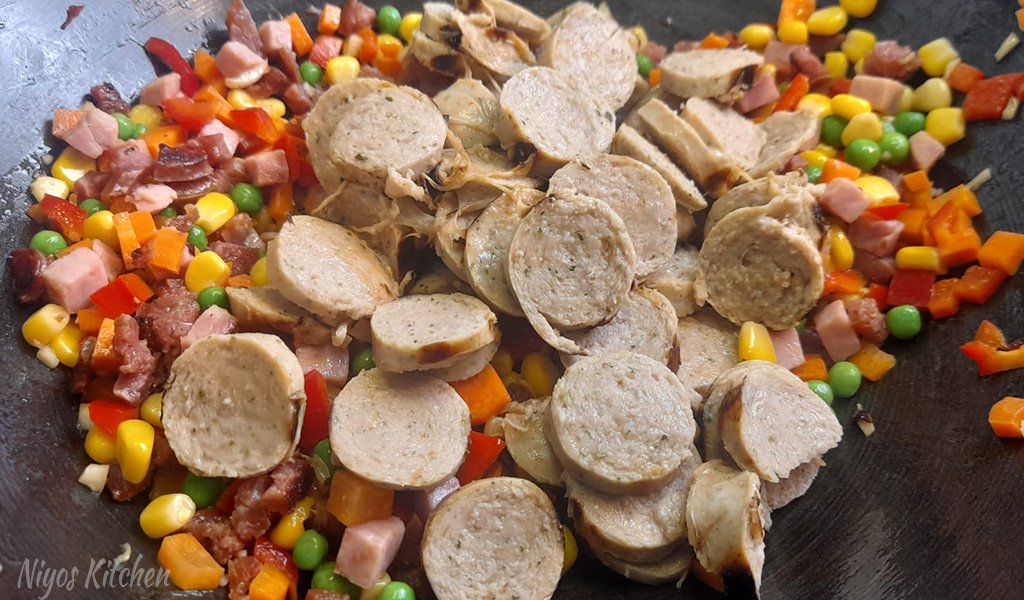 When you bring together sausage, bacon, and ham in a single dish, you're essentially creating a symphony of meats. Each one contributes its unique flavor and texture, resulting in a dish that's rich, savory, and utterly satisfying. The combination of smoky bacon, hearty sausage, and salty-sweet ham creates a harmony that's hard to resist.
The Versatility of Vegetables
Adding vegetables to this sausage and rice recipe is not only provides a burst of colour but also introduces a refreshing contrast to the richness of the meats. You can customise your dish with an different varities of vegetables, from bell peppers and sweet corn to zucchini and carrots. The vegetables not only add nutritional value but also a delightful crunch and natural sweetness that balances the dish.
Rice: The Perfect Partner
Rice, in this case, serves as the perfect partner to bring all these elements together. It absorbing the flavors of the meats and vegetables while providing a satisfying texture that ties everything together. The result is a harmonious dish where every ingredient shines. Leftover rice is ideal for this recipe. I used Basmati Rice for this recipe. You can use any long grain rice.
Seasonings
The seasoning possibilities for this dish are endless. You can go for a smoky barbecue flavour, a spicy kick with Cajun spices, or a simple yet flavourful combination of herbs and garlic. The choice is yours, allowing you to tailor the dish to your taste preferences. In this sausage and rice recipe, I didn't use the any sauce, my favours come from the different flavour of the meats and herbs.
How to cook sausage and rice recipe step by step
Carefully choose your favorite sausage variety or experiment with different flavors to create a unique twist. Once your pan is adequately heated, lay the sausages down gently, sizzling as they make contact with the hot surface.
The exact cooking time may vary depending on the sausage type, but a good rule of thumb is approximately 8-10 minutes.
After the sausages have been cooked, transfer them to a clean plate or cutting board. Proceed to slice them into delectable portions and set these aside.
In the same pan, where the rich flavors of the sausages have left, Pour a generous amount of olive oil and allow it to heats up.
Carefully crack three fresh eggs into the pan, each one offering its own distinct richness. As the eggs sizzle upon contact, gently scramble them.
Remove them from the pan and set them aside.
Begin by heating up a wok or a generously sized pan As the heat gradually rises, add a drizzle of olive oil.
Cut the dried sausage into small pieces and cook these sausage pieces in the pan for 3-4 minutes until they turn a bit brown.
After that, toss in some diced ham, garlic, carrots, bell pepper, sweet corn, and green peas. Give everything a good mix to let those flavors mix together in the pan.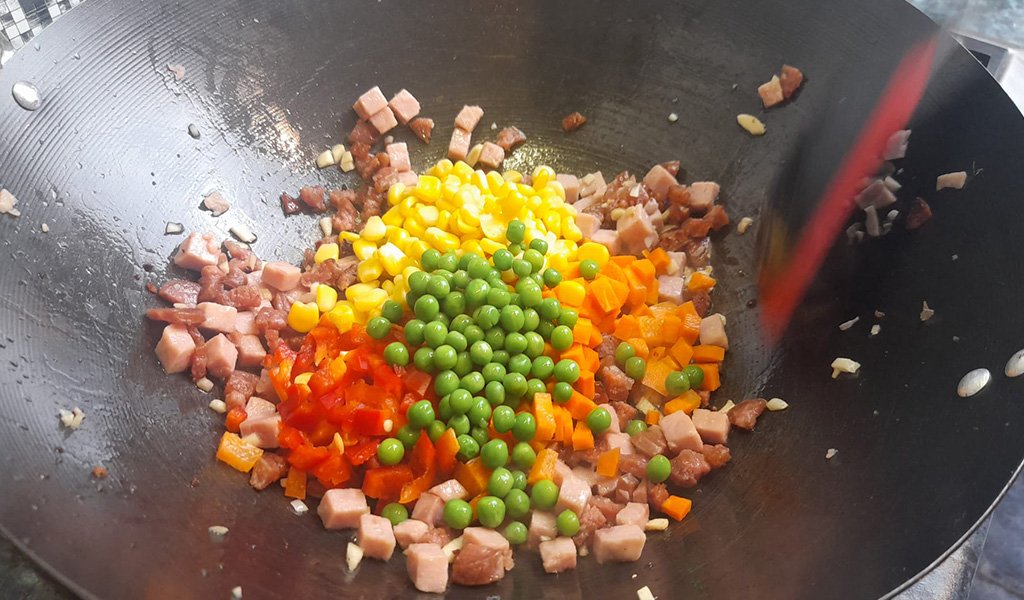 Already adding a lovely colours to our sausage and rice recipe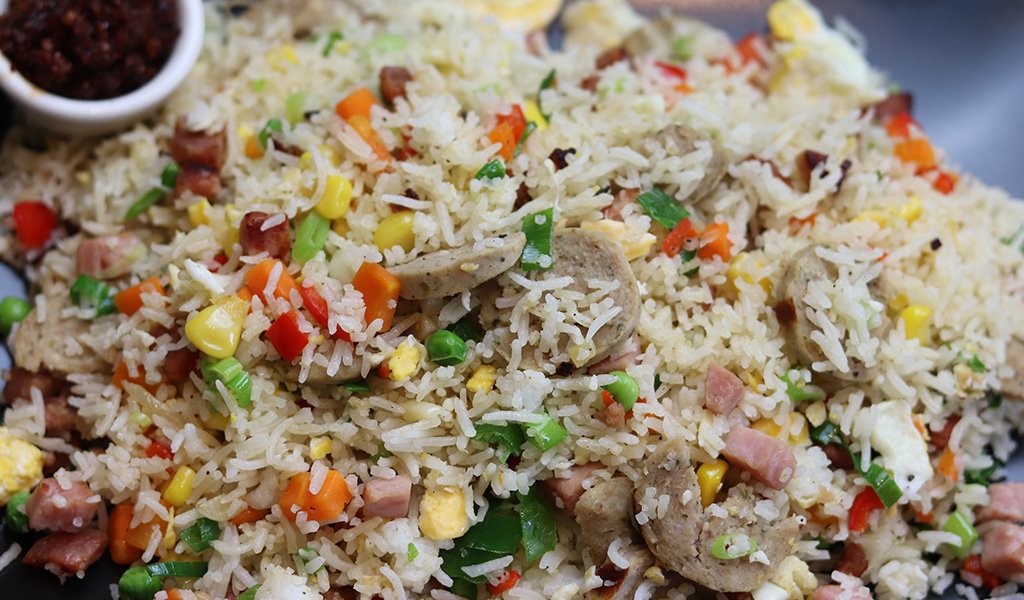 Easy Sausage and Rice Recipe
Discover the perfect harmony of flavours with our savoury sausage and rice recipe! Learn how to create a delicious and satisfying meal that's quick, easy, and bursting with taste.
Ingredients
450

g

Cooked Rice

3

tbsp

Olive Oil

6

Sausages

3

large

Eggs

crumble

150

g

Dried Sausages

dice

200

g

Ham

dice

4-5

clove

Garlic

chopped

1

large

Carrot

dice

½

red

Bell Pepper

dice

100

g

Sweet Corn

100

g

Green Pea

50

g

Spring Onion

large chopped
Instructions
Heat a pan over medium heat and fry the sausage until cooked. Transfer them to a cutting board and cut into pieces and set them aside.

To the same pan, add olive oil, crack 3 eggs, scramble them, and then set them aside.

Heat up a wok or large pan and add some olive oil. Cut the dried sausage into small pieces and fry them for about 3 – 4 minutes.

Then, add diced ham, garlic, carrots, bell pepper, sweet corn, and green peas. Mix everything together.

Add sliced cooked sausages and the crumbled eggs to the pan, then mix everything together.

Add cooked rice and mix all together.

Finally, add some spring onions to the mixed rice, and your sausage rice is ready. Enjoy!

Perfect for Leftovers
One of the best things about this dish is that it often tastes even better the next day. Leftovers can be transformed into a breakfast scramble. It's a versatile way to enjoy the flavours all over again.
If you don't eat pork
If you don't eat pork, you can use chicken sausage or beef. Mince beef also a good alternative. Try whatever you like, when it's come to food, I try everything, there is no rules.
Check Out Our Other Rice Dishes,
Mushroom Rice
Lemon Rice
Nasi Goreng
Milk Rice