Chicken Scampi is a delicious and flavourful dish that can be made in so many ways. This Italian-American classic dish is a heavenly blend of tender chicken and a rich garlic butter sauce served over pasta. It's the perfect meal for any occasion, whether it's a family dinner or a romantic evening for two.
Jump to Recipe
Here are some tips and tricks to help you make the perfect Chicken Scampi. (Also called Scampi Chicken).
Choosing the right chicken: When it comes to choosing chicken for your scampi, it's essential to pick a tender and juicy cut, such as chicken breasts or thighs. I am using chicken thighs for this recipe. Cut the chicken into long strip pieces to make it easier to cook and eat.
Don't skip the garlic: Garlic is the star of the show in Chicken Scampi, and you want to make sure you have enough of it. Use freshly minced or chopped garlic.
Use a combination of butter and olive oil: A blend of butter and olive oil will give your Chicken Scampi a rich and savoury flavour. The butter adds a creamy texture to the sauce, while the olive oil gives it a fruity and slightly bitter taste.
Choose a good wine: Choosing a good wine is very important. This can make your dish delicious or useless. Always use dry white wine when cooking savory dishes.
Add fresh herbs for extra flavour: Fresh herbs such as parsley, basil, or thyme can add flavour and freshness to your Chicken Scampi. Add them towards the end of cooking or sprinkle them on top before serving.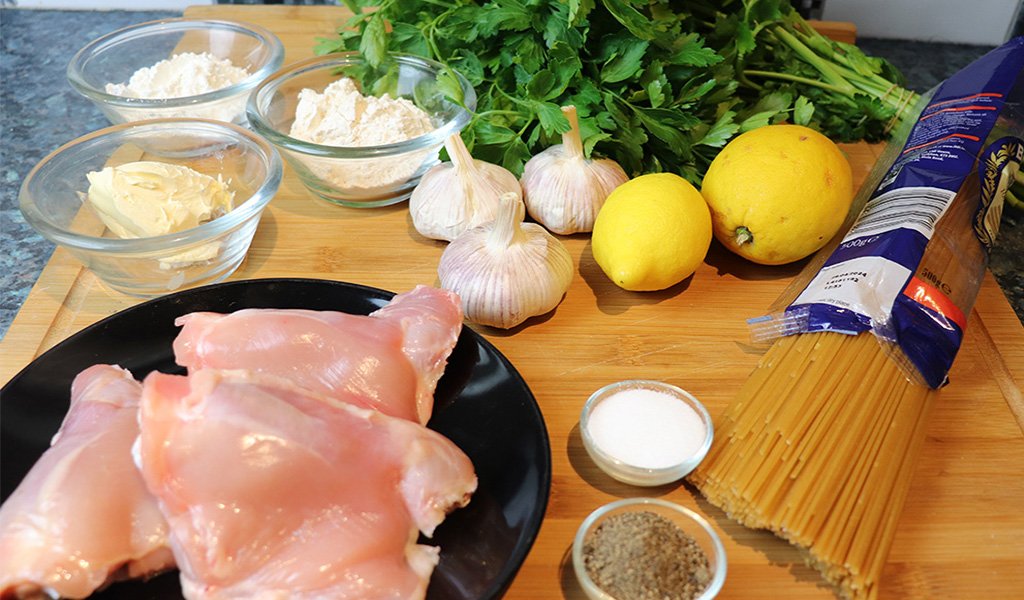 When making Chicken Scampi, it's essential to keep an eye on the sauce consistency. You want it to be thick and creamy enough to coat the pasta but not too thick that it becomes a paste. If the sauce is too thick, you can add a little chicken broth or white wine to thin it out.
Chicken Scampi is a delicious and versatile dish that can be made in many different ways. By following these tips and tricks, you can create a mouth-watering Chicken Scampi that is sure to impress your family and friends. So grab your ingredients and get cooking!
How to Make Chicken Scampi Recipe?
Step 1: Boil the water in a dish and add the pasta and cook for about 10 minutes. once cooked, reserved some water for the sauce and set the pasta aside.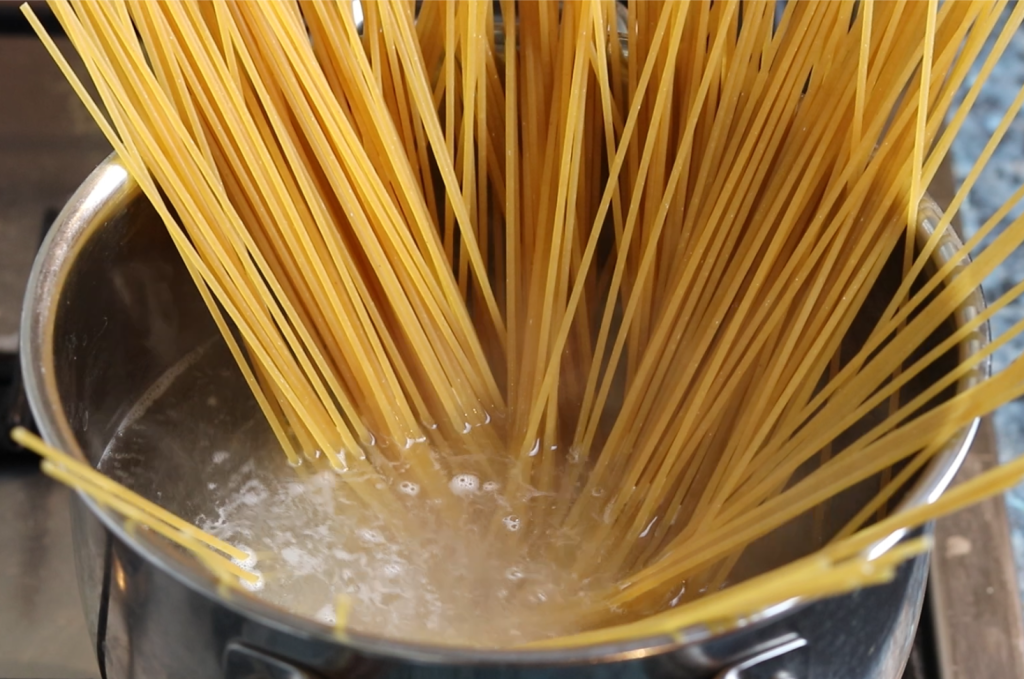 Step 2: Wash, clean and cut the chicken in to 2 to 3 inches and dry it using a tissue if any water remain
Step 3: Mix plain flour, corn flour, black pepper, salt all together and dredge chicken in flour
Step 4: Fry the chicken in olive oil for about 2-3 minutes until they become golden colour.
Step 5: Once chicken is fried, take it off the chicken from the pan and add olive oil and butter, after butter completely melt add garlic, chilli flakes and white wine. Cook about 1 minute and add lemon juice and Pasta stock. Finally add chopped parsley and salt.
Step 6: Now add the chicken and cook for about 2 minutes. Add the pasta in to the pan with chicken, mix all together. once mixed well sprinkle parsley. Enjoy your Chicken scampi.
How long is chicken scampi good for in fridge?
Chicken scampi can be stored in the fridge for up to three to four days if it has been stored properly. It is important to refrigerate the chicken scampi within two hours of cooking to prevent any bacterial growth.
To properly store chicken scampi in the fridge, transfer it to an airtight container or wrap it tightly with clean foil wrap or aluminium foil. Make sure to label the container or wrap with the date it was made so you can keep track of how long it has been in the fridge.
If you are unsure whether chicken scampi is still good to eat, look for any signs of spoilage such as a sour or any sort of smell, unusual texture or appearance, or signs of mould growth. When in doubt, it's always better to not to eat.
Easy Chicken Scampi Recipe
Chicken Scampi With Pasta
Chicken Scampi is a classic Italian-American dish that features tender chicken sautéed in butter and olive oil, then tossed with garlic, white wine, lemon juice, and parsley. This simple and flavourful dish is perfect for a quick and easy weeknight dinner or a special occasion. Serve it over pasta or rice.
Ingredients
500

g

Chicken (bone less)

Cut into 2 to 3 inch slices

5-6

clove

Garlic

Chopped

2

tbsp

Parsley

Chopped

½

cup

Lemon

Juice

1

tsp

Black Pepper

Ground

1

tsp

Lemon Zest

Zest

1

tsp

Chili flakes

½

cup

Plain Flour

½

cup

Corn Flour

2

tbsp

Butter

2

tbsp

Salt

½

cup

White Wine

2

tbsp

Olive oil
Instructions
Cook the pasta according to the packet instruction and drain the water and set a side. Don't forget to reserve about ½ cup cooked pasta water for the sauce.

Clean and cut the chicken into 2 to 3 inch size pieces and dry off excess water.

Get another bowl and mix plain flour, corn flour, black pepper and salt together and dredge the chicken in flour.

Heat a pan with 2 tablespoon of olive oil. Then fry the chicken about 2 minutes until golden brown.

Take off the chicken and add 1 tbsp olive oil and butter to the same pan. Add garlic, chili flakes and white wine. Cook about 1 minute and add lemon juice and Pasta stock. Finally add chopped parsley and salt.

Add chicken and cook about 2 minutes. Add pasta and mix all together. Sprinkle parsley over and Enjoy your Chicken Scampi.

DID YOU MAKE THIS BROCCOLI STIR FRY RECIPE?
Please let me know how it turned out! by leaving a review below. Or snap a photo and share it on Instagram [ be sure to tag me @niyoskitchen & hashtag it #niyoskitchen ]
I am so excited to hearing from you.