Today I decided to cook Chicken and Asparagus recipe for you. As everyone staying at home these days (due to covid-19), I thought of cooking a healthy meal. I found some Asparagus, Cheddar cheese and chicken in my fridge. These ingredients has all the nutrition that I need and it's a very light and a healthy meal.
For this chicken and asparagus recipe I have used a simple sauce and day to day ingredients that anyone can find in their kitchen. This will make your life so easy, than purchasing some special ingredients.
Once I was visiting a friend of mine, her name is Linda. She cooked and show me how to make this. It was delicious and I love it. Since then, I have been cooking this chicken and asparagus recipe for a while, everyone in my family love it. So today I decided to share this amazing recipe with you.
I like to eat this with rice. Particularly Japanese sticky rice is perfect combination. Also garlic bread is another alternative and completely difference experience.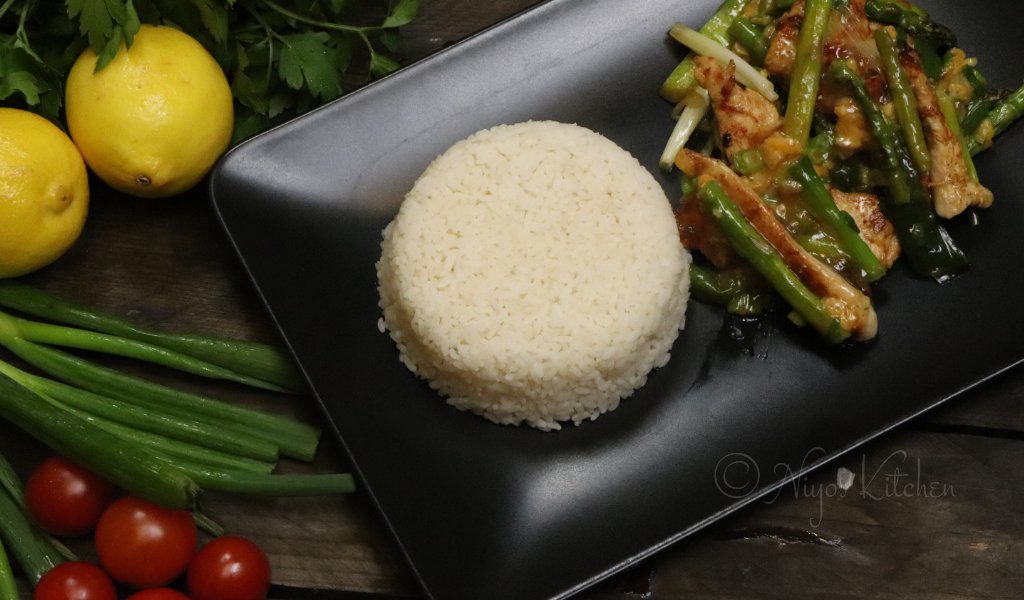 Asparagus: 100g of asparagus has 20 calories, 4g of carbohydrate, 1.88g of sugar, 0.12g of fat and 2.2g of protein. Also it has lots of vitamins and minerals.
Chicken: 100g of chicken has 219 calories, 12.56g fat and NO carbohydrate. Also it has many different vitamins, minerals and most common proteins.
Garlic: helps to digest the food and has very important nutrition like vitamin B and C, iron, manganese, potassium, selenium and copper.
A combination of Cherry vinegar and soy sauce will give this recipe a different taste and a new direction. As we use lots of cheese, kids will definitely enjoy this as much as adults.
How to Cook Chicken And Asparagus Recipe
.1. Cut the chicken breast into 2″ (inch) spices and put them in to a large bowl.
2. Add chopped garlic, dark soy sauce, sugar, black pepper powder, cherry vinegar, corn flour and salt, mix them until all combine together. And keep them in a fridge, about 20 minutes.
3. Get a another bowl and add corn flour and chicken stock, mix them and set aside.
4. Heat up a pan in a medium heat and add olive oil, once oil is heats up add garlic paste, cook that about 1 minute then add the asparagus and mix them together about 1 more minute.
5. Now add the spring onion and cook for about 1 minute, then take it off the pan and set aside.
6. To the same pan, add some olive oil and heat at medium heat. Place the marinated chicken and fry both side until golden brown color.
7. Now add the asparagus mix into the the chicken and mix them well.
8. Then add the corn flour and chicken stock mix to the chicken and asparagus.
9. Now taste the recipe and add salt and pepper if required. Finally add some grated cheese on the top and turn of the stow.
Chicken And Asparagus Recipe.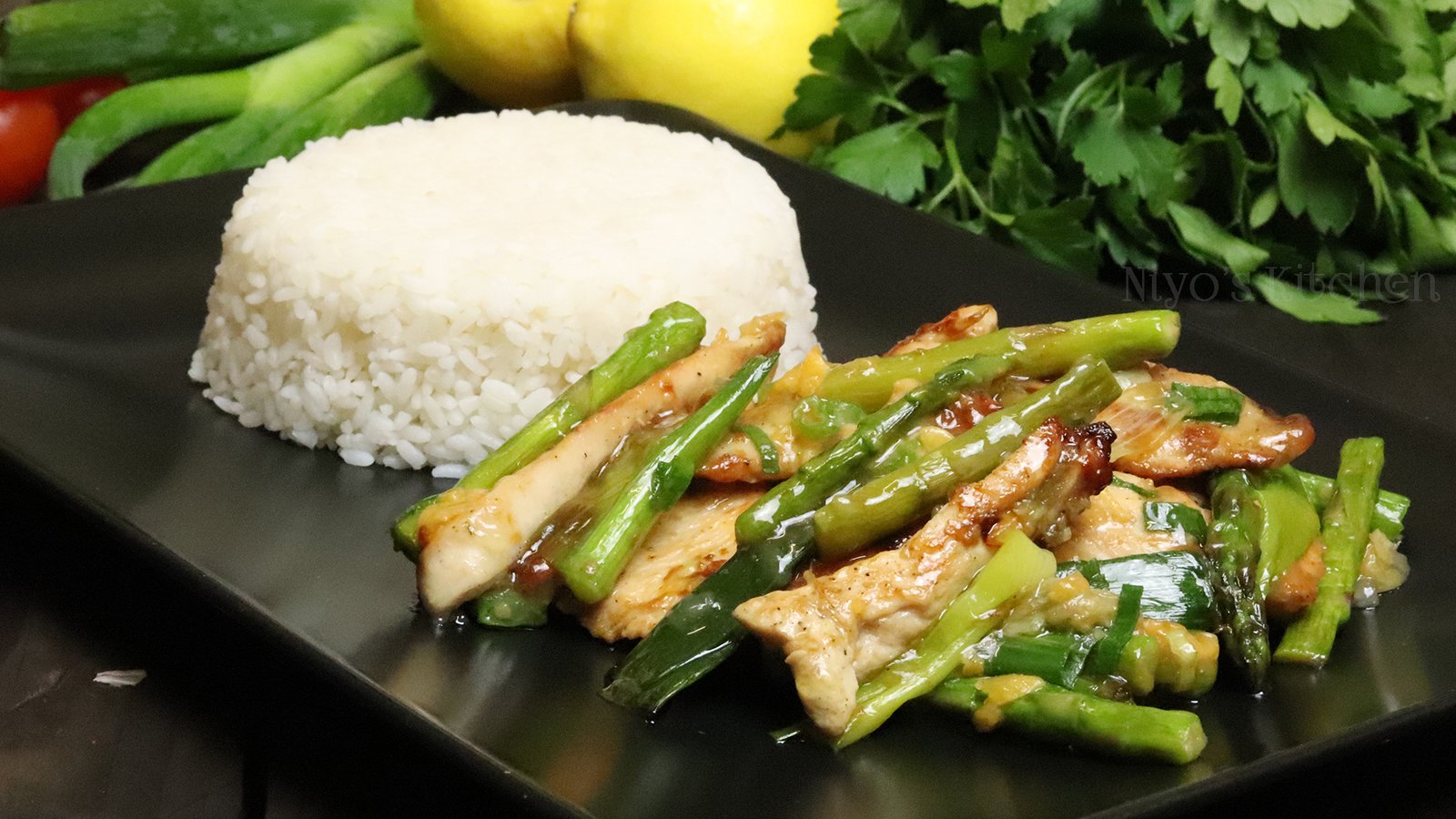 Chicken And Asparagus Recipe
Tasty Chicken and asparagus recipe for kids and adult. A quick and easy recipe to cook in less than 15 minutes.
Ingredients
250

g

Chicken Breast

thin sliced

250

g

Asparagus

5

clove

Garlic

chopped

50

g

Spring Onions

1

tbsp

Corn flour

¼

cup

Chicken Stock

1

tbsp

Soy Sauce

1

tbsp

Cherry Vinegar

1

tsp

Sugar

½

tsp

Black Pepper

powder

1

tbsp

Olive oil

100

g

Cheddar Cheese

grated

Salt

to taste
Instructions
Add Chicken breast, chopped garlic, soy sauce, sugar, black pepper, cherry vinegar and corn flour to a bowl and mix well and set aside for about 20 minutes to marinate.

Add corn flour and chicken stock into a another bowl and mix together.

Heat up a pan in medium flame. Add chopped garlic and stir for about 1 minute.

Now add asparagus and cook them about 1 minute.

Add spring onion and mix all together. Then take off the pan and set them to aside.

To the same pan add some olive oil and cook the chicken breast both side until they turn in to golden color. Make sure the meat is cooked.

Now add the asparagus and mix the chicken and asparagus together. Add chicken stock and sprinkle some spring onion and cheddar cheese on the top. And cook for another 1 minute.
Video
Notes
If you can't find cherry vinegar, you can use rice vinegar.

DID YOU MAKE THIS RECIPE?
Please let me know how it turned out! by leaving a review below. Or snap a photo and share it on Instagram [ be sure to tag me @niyoskitchen & hashtag it #niyoskitchen ]
I am so excited to hearing from you.
Quick Tips!
Before frying the chicken, I like to marinate them about 20 minutes. This will allow the soy sauce, garlic and cherry vinegar to observe into the chicken and gives you a fantastic flavor and make the meat soft.
2. By adding corn flour to the chicken, will give extra crispiness when frying.
3. Cutting the chicken into thin slices will helps the sauce to get into the meat very well and quicker to cook.
4. Before putting the asparagus to the pan, make sure to heat the pan and add the oil. This will allow the asparagus to cook faster.
5. Always remember to set the heat to medium, this will helps to keep the nutritional value, color and the taste of the food safe.
6. Once you add the corn flour mix with asparagus, remember to turn off the heat about 1 minutes, otherwise it will get harder.
7. When using garlic make sure to chop them finely. This will allow you to get the full flavor of the garlic.
8. When choosing the asparagus, always go for young stems, don't get fat hard once.
Other Recipes You Might Like
Cauliflower and Sweet Potato Curry