If you've ever wondered how to take those green Raw Bananas and transform them into mouthwatering dishes and that will leave your taste buds dancing, you're in the right place. In this Raw Banana curry recipe, we're going to make very easy and delicius meal that you have never experienc before.
Whether you're a seasoned chef or a curious kitchen explorer, these recipes cater to all skill levels and taste preferences. We've created a collection that celebrates the versatility of raw bananas, showing their ability to shine in both sweet and savory creations.
So, if you're ready to go bananas in the kitchen and discover a world of delectable possibilities, join us as we explore these irresistible raw banana recipes.
From the first slice to the last bite, each recipe promises to be a delightful journey that celebrates the magic of this humble yet extraordinary ingredient. Get your aprons on, your knives ready, and let's dive into the art of turning raw bananas into delicius meal.
Is Raw Banana and Plantain are the Same?
For most of the time Yes, Their both same. But different varities of banana has different shape and size. For this recipe we are going to use raw curry banana (see the picture below)
Gathering the Ingredients
Raw bananas (green curry banana)
Aromatic spices: cumin, mustard seeds, turmeric, cinnamon sticks, Clove, cardamom, raw curry powder
A medium size onion
A handful of curry leaves
Fresh green chilies for heat
Creamy coconut milk
Oil
Step-by-Step Guide to Cook Raw Banana Curry
Prepping the Bananas: Peel the bananas and cut them into bite-sized pieces. Soak them briefly in water to retain their fresh vibrant colour.
Drain the water and mix raw banana with turmeric powder. Heat a pan with oil and fry the banana both side until they become golden colour. Remove the fried banana from the oil and set aside.
Sautéing Aromatics: Heat a pan with oil and add onion, green chili and curry leaves. Allow them to sizzle before adding cumin seeds, cinnamon sticks, clove and cardamon. Then add turmeric powder, grounded mustard and salt.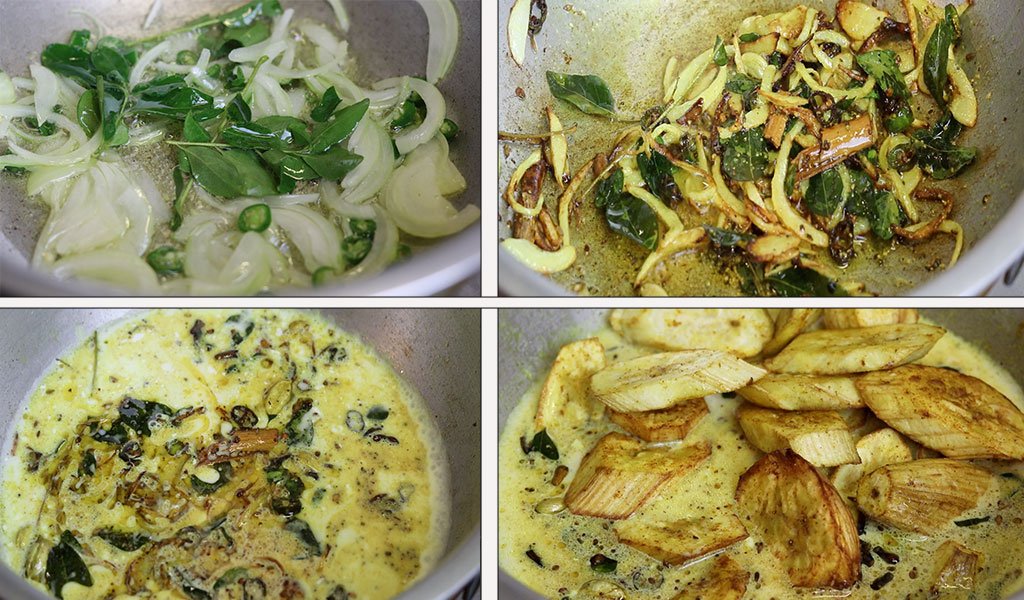 Pour in the creamy coconut milk and stir them well. This is where the magic of flavours unfolds. Finally add the fried banana and cook until all the flavours observed in.
Raw Banana Curry Recipe
Find out the flavours and the goodness of the raw banana curry. Packed with essentiol nutrition, this dish offers both taste and health benifits in every bite.
Ingredients
Banana Marinate
3

Raw Banana

medium size

1

tsp

Turmeric Powder

¼

tsp

Salt

1

cup

Oil

or enough for frying
For the Sauce
1

Onion

medium

2

Green Chili

1-2

stem

Curry Leaves

Fresh

½

tsp

Cumin Seeds

10g

Cinnamon Stick

4-5

Cardamom

4-5

Cloves

1

tsp

Turmeric Powder

Salt

to taste

1

tsp

Mustard Seed

Finely grounded

1

cup

Coconut Milk

1

tsp

Raw Curry Powder
Instructions
Peel the skin of the banana and cut them diagonally and soak them briefly in water until you cut all the bananas to retain their fresh vibrant colour.

Drain the water and add turmeric podwer and salt. Then mix all together and set aside.

Heat a pan with oil and fry both side of the banana until they golden brown. Take them off and set aside.

Heat another pan with little oil and add onion, green chili and curry leaves. Saute until the onion colour changed.

Add cumin seeds, cinnamon stick, cardamom and cloves. Mix all together and add turmeric powder and salt. Then add grounded mustad seeds and mix all together for about a minute.

Add coconut milk and mix while adding raw curry powder and cook for another minute.

Finally add the fried banana and gently mix all together about a minute, now turn off the cooker and your Raw Banana Curry is Ready.

DID YOU MAKE THIS BROCCOLI STIR FRY RECIPE?
Please let me know how it turned out! by leaving a review below. Or snap a photo and share it on Instagram [ be sure to tag me @niyoskitchen & hashtag it #niyoskitchen ]
I am so excited to hearing from you.
Raw Banana Benefits
Here I listed some of the benifits that I found online, if you are interested.
Digestive Support: With a high content of dietary fibers and resistant starch, green bananas facilitate digestion, promote prolonged satiety, and assist in weight management. They also prove effective in alleviating various stomach issues like gastric ulcers, bloating, constipation, diarrhea, and bacterial infections of the digestive tract.
Gluten-Free Option: Individuals adhering to a gluten-free diet can opt for green banana flour as an alternative.
Heart Health: Abundant in potassium, raw bananas function as vasodilators, regulating blood pressure levels and safeguarding against heart conditions like atherosclerosis and heart attacks, thereby promoting overall cardiovascular health.
Blood Sugar Management: Characterized by a low glycemic index, green bananas induce a gradual release of insulin after consumption. This property is particularly beneficial for those struggling with blood sugar level management.
Vitamin-Rich: Aside from being a source of essential minerals, green bananas are teeming with vitamins B6 and C. Vitamin B6 facilitates numerous enzymatic processes within the body, enhancing metabolism, while vitamin C, a potent antioxidant, combats chronic diseases, infections, enhances skin health, and bolsters the immune system.
Electrolyte Balance: Green bananas contribute to maintaining a healthy electrolyte balance, thanks to their antioxidant and mineral content. This aids in the prevention of kidney issues.
Here are some more information about Cooking Banana / Raw Banana.