Chicken Liver recipe is a great way to use up any green vegetables or green pea that you might have in your fridge. It's healthy and smells amazing!
Chicken liver recipe is a very unique dish. It can be served in two ways: either with the sauce, or without. If you are not sure how to cook this dish, then just follow these easy steps below and your chicken liver will turn out perfect every time!
A Little Bit About Chicken Liver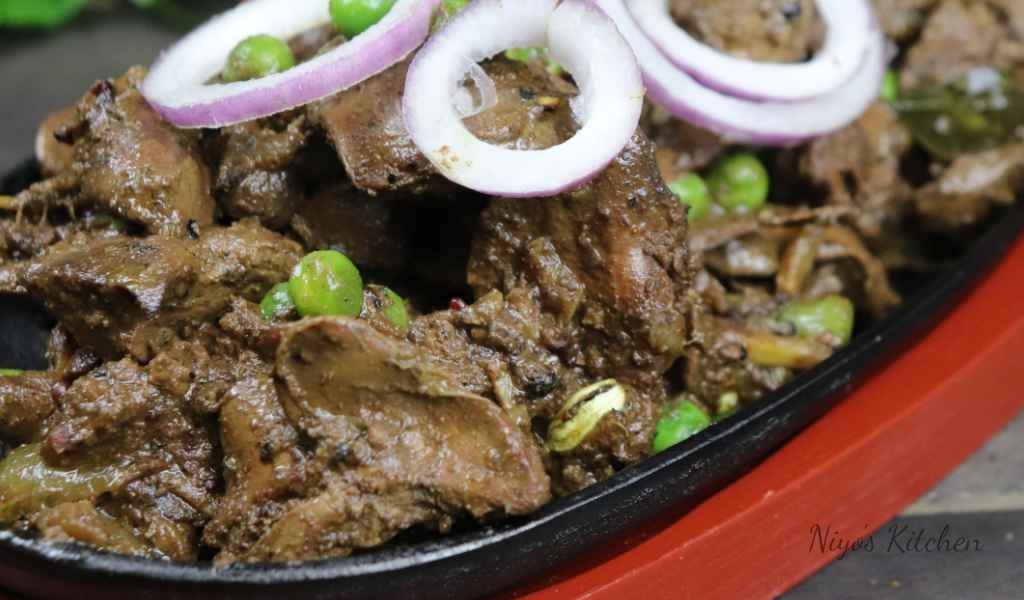 Chicken liver is a very unique dish that can be enjoyed in many ways. Chicken livers are rich in iron, vitamin A and B12. Chicken liver has been eaten for at least 2000 years and is the only organ meat commonly consumed today. Chicken livers have an interesting flavor but can easily be prepared with other ingredients to make it more palatable if you find the taste too strong or bitter. This dish is great for people who are on the lookout for new dishes! Let's get started.
Chicken Liver Recipe with Green Pea
Chicken Liver Recipe With Green Pea
A unique and great way to eat chicken liver. Very easy to cook and you can try your own experimental with adding your own vegetable to this recipe. Taste good with rice or rotti.
Ingredients
300

g

Chicken Liver

100

g

Green Pea

frozen

1

tbsp

Coconut Oil

1

large

Onion

thinly sliced

1

tsp

Salt

1

tsp

Ginger

chopped

6-8

clove

Garlic

chopped

5-6

Curry leaves

fresh or dry

4-5

Green Chili

cut in to half

½

tsp

Cumin Seeds

½

tsp

Mustard Seeds

½

tsp

Turmeric Powder

1

tsp

Black Pepper

freshly ground

¼

tsp

Coriandar Powder

½

tsp

Cumin Powder

¼

tsp

Chili Powder

½

cup

Water

½

Lemon Juice

1

Anaheim Chili

Sliced (optional)

5-6

Cardamon

5-6

Clove

3-4

Cinnamon Stick

½

cup

Coconut Milk
Instructions
Worm up a pan on a medium heat and add coconut oil, onion and salt, stir for about 1 minute

Then add ginger and garlic and stir together.

Add curry leaves & green chili, stir about a minute.

Now add the cumin seeds, mustard seeds, turmeric powder, black pepper, coriander powder, chili powder and cumin powder, mix all together and stir for about 1 minute.

Now add the chicken liver ( make sure to wash the chicken liver) mix together and stir about 1 or 2 minutes.

Add some salt to taste and pour water and mix, the close the lid and cook for about 10 minutes.

After 10 minutes of cooking add the lemon juice.

Add Anahemie chili (optional)

Cook until the gravy dissolved

Add cardamom, Cloves and cinnamon sticks to a Pestle & Mortar and brake them ( no need to grind) and mix all together.

Finally add the green pea and mix gently. cook about 1 minute

DID YOU MAKE THIS BROCCOLI STIR FRY RECIPE?
Please let me know how it turned out! by leaving a review below. Or snap a photo and share it on Instagram [ be sure to tag me @niyoskitchen & hashtag it #niyoskitchen ]
I am so excited to hearing from you.